Trojan™ T4 - Complete Label Production All In One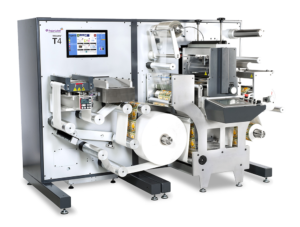 The Trojan™ T4 is one stop shopping for a commercial digital printing and finishing machine. This stand-alone advanced label printing press includes a precision laminator and semi rotary die-cutting.
The Trojan™ T4 has a print width of 2" to 8.6" and provides a superior print resolution of up to 1600 dpi. It runs at an impressive print speed of up to 12 inches per second, or 60 feet per minute. Designed for high capacity production, it allows users to generate extremely large runs in a short period of time.
Single stand-alone advanced label printing press
Precision laminator
Semi rotary die-cutting
Less than 7.5 feet long
TrojanControl touch screen complete with a job library and a cost calculator to review operating costs
Schedule your live virtual demonstration today and see your label printed on demand, Dennis 678-824-2304